Thanks to our smartphones, we're always connected: We can keep in touch with the office from the beach, check our email in the school pick-up line, or post a picture of our lunch to social media just for fun. But what about the rest of our devices? When we're not connected to our office or home Internet, how do we get our laptops and tablets online?
Here we'll look at how to use WiFi hotspots and smartphone tethering to make sure that wherever you go, whichever device you want to use, you can always stay connected.
Enjoy WiFi access on the go with millions of free Xfinity WiFi hotspots nationwide - Learn About Xfinity WiFi Hotspots
What is a WiFi hotspot?
A WiFi hotspot is a way to connect to the Internet wirelessly when you are away from your home or office network. These public hotspots are generally in a fixed, physical location such as a hotel, airport, or coffee shop, and require a password or permission from the owner to get online. Once connected, you need to remain in the immediate area to stay online. WiFi hotspots are often free, but in some cases, the owner will charge a fee. You can also connect your phone to WiFi hotspots to save your cellular data.
There are two types of WiFi hotspots: secured and unsecured. While public WiFi is inherently insecure, an unsecured public WiFi hotspot is not as ideal. If you can, opt for the network name with a small padlock next to it that requires a password for access.
Xfinity offers its customers free access to its network of WiFi hotspots. There are three types: Xfinity is a secure public network indicated by the padlock. "XFINITYwifi" and "cablewifi" are public, unsecure networks, similar to public WiFi connections offered at a coffee shop.
How to connect to public WiFi
To connect to a public WiFi hotspot, simply select the name of the network from the list of available networks on your device, and enter the password given to you by the establishment. Alternatively, you may be routed to a sign in page where you'll have to answer some questions and agree to Terms of Service.
To access an Xfinity hotspot, just enter your Comcast email and password. The Xfinity WiFi app - available for download on both iOS and Android devices - can help you locate these hotspots.
What is tethering?
With tethering, you can turn your phone into a mobile WiFi hotspot, so your devices can use your phone's data connection. This creates a more secure, convenient network. It allows you to use your cellphone's data plan instead of a public network, and it allows you to move around and still stay connected. It's known as a mobile hotspot.
A mobile hotspot is more secure than a public hotspot because it uses your data stream. It's often faster, as it isn't affected by any network traffic. Lots of people could be using a public hotspot at the same time, which will cause it to slow down.
A few common uses of tethering include:
Driving in the car:

Your passengers can tether their tablets and laptops to your phone's data plan.

Working on your laptop in a public place:

Use it for sensitive work, such as banking, so you're not sending passwords over a public network.

Connecting in a place that has a weak signal:

If you can't get a good signal from the available public WiFi networks, tethering to your phone can provide a stronger, more reliable connection (as long as you have a good cellular signal).
How do I connect via tethering?
To start tethering, just turn on your cellphone's hotspot feature. For iPhone users, go into "Settings" and toggle Personal Hotspot to "on." A password will appear, and you use this to connect your other devices to the new network your phone has created, normally called "[Your Name]'s iPhone."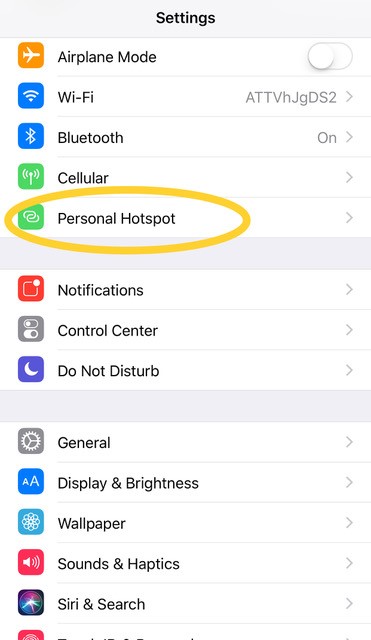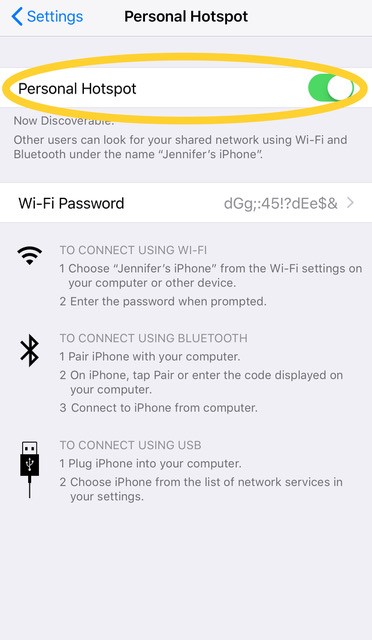 Here is an easy-to-use guide for turning on other common devices' hotspots.
Things to know about mobile hotspots
Does connecting to a WiFi hotspot use data? Yes, tethering uses your cellphone plan data, so if you pay per GB, you'll want to use it sparingly. If you have unlimited data, tethering is very useful.
Does it cost more? While most cellular carriers have stopped charging extra fees to turn on hotspots (it's now a feature built into the hardware of all iPhones and Android phones), you may need to be on a higher plan to get a good speed or to get a "data bonus" for your hotspotting activities. Xfinity Mobile doesn't charge additional fees for using your phone as a hotspot, and you can activate it on either of its plans.
Will a mobile hotspot work without a cellular signal? No, tethering uses your cellphone's data plan, which needs a connection to a cellular tower to work. If you have no signal, you'll need to look for a WiFi hotspot.
How many devices can I tether? Most carriers will limit you to five tethered devices at a time, but the more devices you have tethered, the slower the connection will be for all those connected.
Will a mobile hotspot alter my phone's performance? Turning on your phone's mobile hotspot will drain its battery fast, so it's a good idea to have it plugged in. A portable charger can help. If you can't charge it, only turn the hotspot on when you really need it.
Both hotspots and tethering are excellent ways to stay connected easily and seamlessly wherever you are. Just be aware of the security risks of using an unsecured network, and be sure to opt for a secure network or tethering to protect your personal information.
Find a mobile plan that will help keep you connected, no matter where you are.