What to stream this month with Xfinity
Start streaming now by saying the name of your favorite TV series or movie into your Xfinity Voice Remote
March skips an hour when Daylight Savings hits on the 13 th , but Xfinity customers don't need to worry about lost time. The streaming guide is here to highlight all the hottest new movies and series on Xfinity, so readers can get right to the good stuff.
What to stream on Peacock
Tiger King captured the nation in 2020, and now it's roaring back as a prestigious miniseries. This dramatic retelling centers the story on Carole Baskin (Kate McKinnon), the animal sanctuary owner marked for death by the eccentric Joe Exotic (John Cameron Mitchell). Carole's no helpless victim, however. She's loaded up on enough ammunition to send Joe's zoo sky high. Premiering March 3, Joe Vs. Carole is a new spin on a modern streaming classic.
Say "Joe Vs. Carole" into your Xfinity Voice Remote to watch.
Get ready for a different kind of workplace comedy. Premiering March 10, Bust Down is a new comedy series starring Chris Redd, Sam Jay, Jak Knight, and Langston Kerman. Bust Down tells the tale of a group of casino employees and their lackluster lives in middle America. They're pretty good at making a bigger mess of already messy situations, but with this group of stellar comedians it's sure to be a show to remember.
Say "Bust Down" into your Xfinity Voice Remote to watch.
What to stream on Netflix
When Andrea Oliver's 31st birthday party is interrupted by a tragic attack, she sees a side of her mother that she never knew existed. Her mother, Laura, violently defuses the situation, an action that saves the day--but changes the course of their lives forever. Premiering March 4 and starring Toni Collette, the new series Pieces of Her is based on the bestselling novel by Karin Slaughter that explores the question of just how well you can know someone you love.
Say "Pieces of Her" into your Xfinity Voice Remote to watch.
The first season of Bridgerton set streaming records in December 2020 with its steamy feminist take on 19th century high society London, and now it's back to dish more drama. The new season, which debuts March 25, will follow Anthony, the eldest Bridgerton, as he tries to impress his new fiancée's family—but he might have impressed his fiancée's sister a little too much. It's messy, but that's what makes it Bridgerton .
Say "Bridgerton" into your Xfinity Voice Remote to watch.
What to stream on Hulu
Elizabeth Holmes was many things; a billionaire, a visionary, a pioneer, and ultimately--a fraud. When her blood-testing company, Theranos, was revealed to be built on a bedrock of shoddy science and lies, the story of Elizabeth Holmes captured the attention of the nation--but the woman at its center went silent. Featuring Amanda Seyfried, William H. Macy, Laurie Metcalf, and Naveen Andrews, this star-studded miniseries will tell the whole story from the perspective of the woman who started it all. The Dropout drops March 3.
Say "The Dropout" into your Xfinity Voice Remote to watch.
It's hard to believe that Atlanta , Donald Glover's ultra-influential dramedy, has only aired two seasons since its debut in 2016 launched its cast to superstardom. Despite its influence, there are few series being made right now that match its level of formal playfulness and its willingness to be everything from a laugh-out-loud comedy to a haunted house mystery from week to week. Premiering March 25, four years after the end of season 2, it's anyone's guess what surprises season 3 will hold.
Say "Atlanta" into your Xfinity Voice Remote to watch.
What to stream on HBO Max
The new HBO comedy Our Flag Means Death has everything a fan of adventure could ask for--salty air, open seas, and a gang of pirates who have no idea what they're doing. Based loosely on the misadventures of real-life aristocratic fool-turned-pirate captain Stede Bonnet, this miniseries boasts more comedic talent than you could buy with a whole shipload of doubloons. Featuring performances by Rhys Darby, Taika Waititi, Leslie Jones, Fred Armisen, and even the guy who played Hodor, comedy fans will want to mark their calendars with an X for the premiere date of March 3.
Say "Our Flag Means Death" into your Xfinity Voice Remote to watch.
Even the most casual basketball fans know the names Magic Johnson and Kareem-Abdul Jabbar, and in this new HBO miniseries premiering March 6, the tale of their dramatic rise to stardom will be told. Produced by Academy Award-winner Adam McKay, Winning Time: The Rise Of The Lakers Dynasty traces the origins of the legendary Lakers lineup of the 1980s, following their accomplishments both on and off the court. With a sprawling cast including John. C Reilly, Sally Field, and Quincy Isaiah as the one-and-only Magic Johnson, Winning Time looks to be as entertaining for die-hard superfans as it will be for those who've only heard whispers of the legends.
Say "Winning Time: The Rise Of The Lakers Dynasty" into your Xfinity Voice Remote to watch.
What to stream on Amazon Prime Video
Years after she went off the air, Lucy still has a lot of explaining to do. On March 4 she'll get her chance. This time, comedian turned director Amy Poehler is here to help. In this moving documentary about the life and love shared between Lucille Ball and Desi Arnaz, Lucy and Desi focuses its lens on the mid-century comedy power couple whose life didn't always echo their art.
Say "Lucy and Desi" into your Xfinity Voice Remote to watch.
Lizzo is the renaissance woman we've all waited for and now she's spreading the love around. Premiering March 25, Watch Out for The Big Grrrls is a brand-new reality show that follows Lizzo as she searches for full-figured backup dancers and models to spotlight and celebrate. There aren't many details about the new competition show, but if Lizzo's on board, this is sure to be the ride of a lifetime.
Say "Lizzo's Watch Out for The Big Grrrls" into your Xfinity Voice Remote to watch.
What to stream on Disney+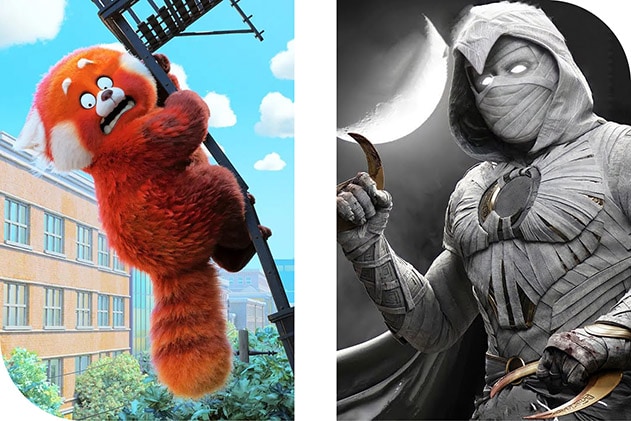 Premiering March 11, Turning Red is the latest feature from the animation giant looking to reframe the challenges and joys of getting older. In this story, Mei Lee, a 13-year-old Canadian girl coming of age in the early 2000s, notices her body is changing… in fact, she's turning into a red panda! What could that possibly mean? This humorous and heartfelt journey features the voice acting talents of seasoned actress Sandra Oh and is sure to get the whole family talking about the challenges of growing up.
Say "Turning Red" into your Xfinity Voice Remote to watch.
Strap in, MCU fans, because another Marvel superhero series is on the horizon. Beginning March 31, tune in to see screen star and acting dynamo Oscar Isaac portray the former marine turned superhero Moon Knight , a hero whose origin story examines the intricacies of trauma and mental illness. Created by Jeremy Slater ( The Umbrella Academy ) and featuring actors Ethan Hawke and Gaspard Ulliel in supporting roles, this MCU series is sure to delight and intrigue.
Say "Moon Knight" into your Xfinity Voice Remote to watch.