Just in time for college football season, ESPN3 is now available on Xfinity X1. Tune in to your choice of over 5,000 sporting events per year — and it's all free for ESPN customers. Enjoy extensive NCAA sports coverage, including hundreds of college football games, tennis matches, and swim meets, plus international soccer matches, and so much more. All with ESPN3 on X1.
What's included with ESPN3 on X1
College sports fans: this news is for you! Xfinity X1 is now home to ESPN3 coverage of live collegiate events from college conferences all over the country. Tune in to your choice of 5000+ live events annually. Now that's a lot of coverage.
With ESPN3 on X1, everyone in your home can enjoy:
International soccer, tennis, and multicultural event coverage
Extensive NCAA sports coverage including NCAA Championships
150+ live college football games
425+ Men's college basketball events
300+ Grand Slam tennis matches from the Australian Open, Wimbledon, and US Open
400+ second screen experiences like Saturday Night CFB, NBA, College Football Playoff, Bowl Games, Tennis Majors, and NCAA Championships
200+ soccer and volleyball events
100 non-conference men and women's basketball events
Weekly press conferences from all 14 SEC coaches
Halftime band performances from the SEC Network football games
And so much more!
Plus, with live streaming sports events on ESPN3 through X1, you'll even get a view into unique sporting events like the Nathan's Hotdog eating championship. Will Joey Chestnut beat his record-setting 74 hot dogs next year? Tune in to find out.
And with ESPN3 on X1, you'll get to see the world of sports through multiple camera angles (so you never miss a moment of the action), in a different language (Spanish-language coverage available), and on multiple courts (for tournaments).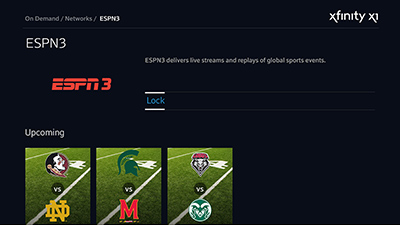 What's unique about ESPN3 on X1?
ESPN3 is conveniently available through the Xfinity X1 Sports App. And with the X1 Voice Remote, you can even use your voice to live stream your favorite sports content right on your TV screen. Just say "ESPN3" to get started from the ESPN3 network page on Xfinity X1.
To tune into all the action on ESPN3, you must subscribe to ESPN network, available with the following TV plans:
Digital Starter TV – 140+ channels
Digital Preferred TV – 220+ channels
Digital Preferred Plus TV – 230+ channels
Shop the latest Xfinity offers today to find the sports package that's right for you.
ESPN3 is now accessible on Xfinity X1 along with all your favorite sports content, On Demand programming, top series and movies on Netflix, new music on Pandora, trending videos on YouTube, and of course — live TV. It's more than just TV, it's X1.
With ESPN3 now on X1, sports fans get the best of both worlds: the ultimate, dynamic TV experience from Xfinity, plus a whole new look at college sports with ESPN3. Catch all of the action, all year long—no matter the season.