From Tuesday, 11/24 – Monday, 11/30, Xfinity customers can watch free TV across Xfinity platforms including Flex, X1, and Stream. Learn more and tune in to Xfinity Free TV Week starting Tuesday!
Xfinity Free TV Week: what to watch, how to watch, and more
During Free TV Week, Xfinity customers can enjoy over 4,500 TV series, movies, and more including some of the year's most popular shows and classic favorites such as:
Godfather of Harlem (EPIX)
His Dark Materials* (HBO)- Season one and episodes from season two airing now
The Undoing (HBO)
Lovecraft Country (HBO)
Game of Thrones* (HBO)
The Vow (HBO)
Saved by the Bell (Peacock)
Saturday Night Live (Peacock)
Yellowstone (Peacock)
Moonbase 8 (SHOWTIME)
Billions (SHOWTIME)
Dexter (SHOWTIME)
Shameless** (SHOWTIME)- catch up before the eleventh and final season airs in December
The Good Lord Bird** (SHOWTIME)
P-Valley (STARZ)
The Spanish Princess (STARZ)
Elf (STARZ)
Power Book II: Ghost (STARZ)
The Invisible Man* (HBO)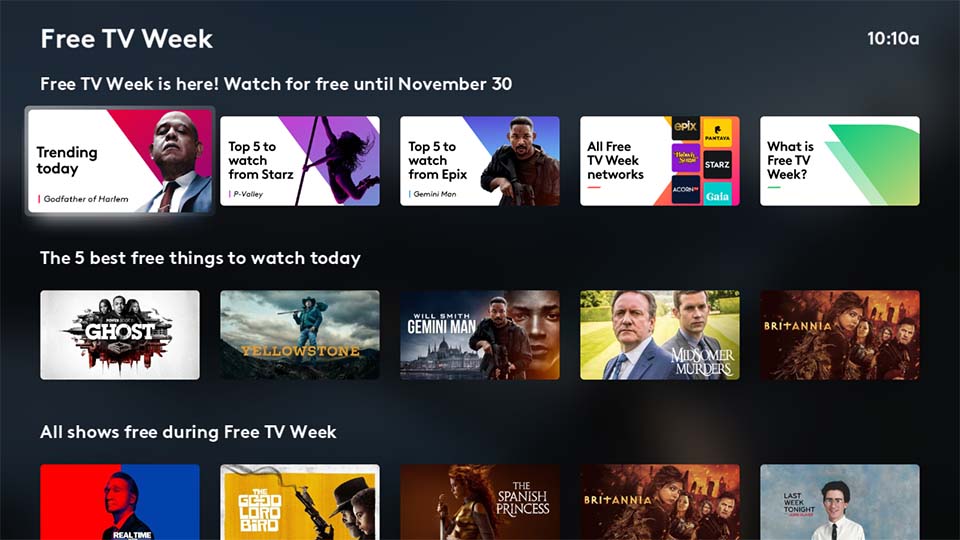 Wondering what to watch this week? Each of Xfinity's TV editors compiled their own must-watch lists with movies and shows that are free this week. Plus, you'll find additional recommendations within the Kids, Black Film & TV, LGBTQ and Latino destinations across platforms. You can find these picks and suggestions in the "Free TV" week destination on both X1 and Flex.
Just say "Free TV Week" into your Xfinity Voice Remote to get started or go to www.xfinity.com/stream and explore all your viewing options. It's all included for all Xfinity customers – at no additional cost!
*Available from 11/25-11/30