It's an all-too common scenario: You're checking email on your phone, and up pops that anxiety-inducing alert that you've reached your data limit for the month — and the month is only halfway over! So how can you conserve data while still using all of your favorite iPhone features? You can reduce data usage and avoid extra charges without limiting the use of your phone. Here are some simple steps you can take to save data each month.
What apps use the most data?
Did you know that your phone is connecting to the internet to check in every few minutes? It could be checking to see if there are updates to the iOS system or individual apps, but it's just as likely that a specific application or game is running in the background and using up your data without warning (not to mention your battery power).
All the major social network services like Twitter and Facebook keep tapping that data connection, many multiplayer games are grabbing updates even if you aren't playing, and you're doubtless receiving email messages — including attachments — even when the phone's untouched. That adds up to a big problem if you're trying to minimize your cellular data usage each month. While you may find that apps like Facebook and Snapchat are indispensable because of their instant and constant updates, that digital vigilance comes at a data cost.
Fortunately, Apple's iOS 10 enables you to identify which apps are allowed to access cellular data, how much they've used, and which apps have permission to keep running in the background, even when you aren't actively using them. Using these features can play a huge role in helping you conserve data.
Find data usage on your iPhone
The first step is to identify which apps are consuming your cellular data. Go to Settings > Cellular, then swipe down to the very bottom of the screen to find "System Services." Tap on it and you'll see what categories of system apps are responsible for your cell data usage, as shown below.
While this doesn't break down cellular usage by app, it highlights system features like location that might be consuming a lot more data than you realize. In fact, "Time & Location" is surprisingly data intensive, consuming over 5Gb of data, as shown in the example. (Before you panic, however, note that if you've never reset your stats, this figure will represent data usage since you first bought your iPhone. To reset it, swipe to the bottom of the Cellular settings screen and tap on "Reset Statistics.")
To identify data usage on a per-app basis, you get to do the work of comparing and figuring out which is the greediest. Simply swipe upwards in the Cellular settings screen so you can see each app listed. Underneath the app name is an indication of how much cellular bandwidth it has used, if any.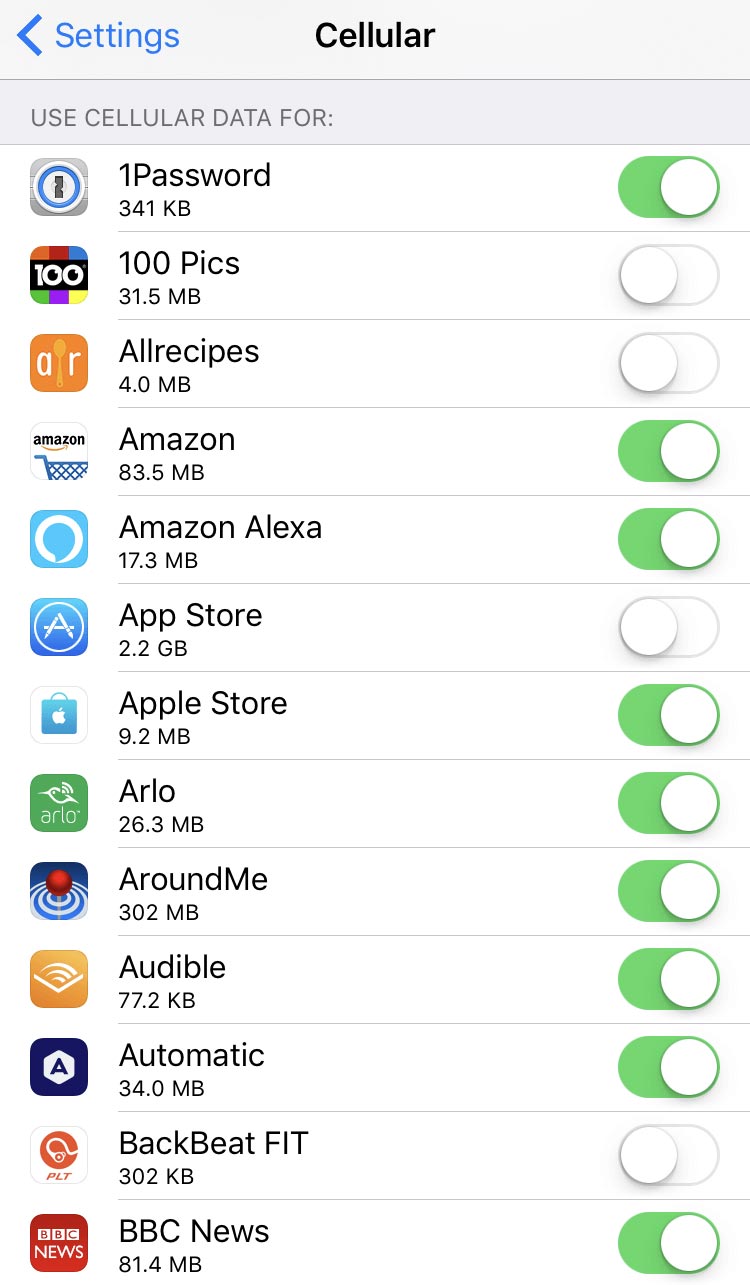 As you can see, while some apps like 1Password and BackBeat FIT use a minuscule amount of data, others, like AroundMe and Amazon, use a lot more — 302MB and 85MB, respectively. And take a look at the data usage of the Apple Store: 2.2Gb! No wonder it's been disabled in the interest of saving cellular bandwidth. If you're frustrated by the granularity of this process, you can disable all cellular data access for apps by switching the master Cellular Data control at the top of this screen to "off."
You'll quickly be able to identify which apps require cellular connectivity when they complain about being offline. One-by-one, enable access to your cellular internet connection after considering which are critical to your digital life. Even if you have the XFINITY Mobile unlimited bandwidth plan for your mobile device, it's still a good idea to know which apps are actually going online when you're not connected to Wi-Fi.
How to reduce data usage on iPhone
Managing your data access is time well spent if you want to know what's going on with your iPhone and which services and applications are constantly going online.
Here are more ways to ensure you save data usage on your iPhone:
Delete apps you don't use that are guilty of constantly checking in — particularly games.
Go into airplane mode or power down your iPhone while you sleep.
Fetch your mail less frequently, as specified in the Apple Mail settings.
Always make sure you're running the latest version of iOS.
Take advantage of Wi-Fi auto-connect features so the iPhone automatically uses Wi-Fi if it's detected and there's a hotspot nearby.
Consider an unlimited data plan.
Take these steps and you'll be master of your iPhone in no time, avoiding unnecessary overages and charges (and those pesky alerts). For more information on how to conserve data through XFINITY Mobile's auto-connect capabilities and unlimited data plans, click here.