PROPERTY MANAGEMENT
Smarter homes. Happier residents.
Experience a better network
NETWORK SOLUTIONS
Custom solutions for every property
The Advanced Communities Network by Xfinity Communities puts your property ahead of the curve with custom solutions. From existing buildings to greenfields, we will evaluate your property and provide a simple solution to smarter living for your residents.
SMARTER GIG SOLUTIONS
Giving residents the speed they need
Our network delivers fast Gigabit speeds to keep your residents connected to all the things they love – no costly construction or re-wiring required. All residents need to do is upgrade their service and swap out a modem. And right away, they can stream more, download faster and enjoy all the speed our advanced network has to offer.
Maximum download speeds of 940 Mbps when hardwired via Ethernet. Actual speeds vary and are not guaranteed.
BETTER NETWORK
A network for today and tomorrow
We'll work with you to easily integrate smart solutions into your property, giving your residents our top speeds, along with the flexibility to upgrade to higher speeds in the future. It all adds up to a smarter, more connected experience at home and on the go.
SINGLE FAMILY UNITS
Deliver the features your community will love
With our easy-to-use Xfinity Home app, your residents can keep an eye on their home and pets, adjust their lighting and temperature remotely – even lock or unlock doors. Xfinity X1 provides an interactive TV experience like no other. And residents can enjoy the amazing speed, coverage and control of Xfinity xFi, the ultimate in-home WiFi experience.
NEW DEVELOPMENT
Build smart, connected homes
Today's home buyers expect their new homes to be equipped with smart features and advanced home security. Give your customers the technology they want with minimal disruption to the existing construction cycle.
Discover a one-of-a-kind entertainment experience
BETTER ENTERTAINMENT
Taking entertainment to the next level
Change the way your residents experience TV with Xfinity X1, the simplest, fastest, most complete way to access all their entertainment on all their screens. With the X1 Voice Remote, they can easily search their favorite shows and movies just by using their voice. And fast, reliable Xfinity Internet means residents can stream, surf and game with ease.
Say hello to outstanding service
Better Service
Assistance that's always available
You strive to give your residents an excellent customer experience and we're dedicated to doing the same – with property-focused community account representatives, around-the-clock live support and 24/7 network monitoring.
DEDICATED SUPPORT
Bringing your vision to life
It all starts with your Residential Development Professional — RDP. They'll be your dedicated point person from the time you break ground and throughout the build to help with a seamless implementation of Xfinity services.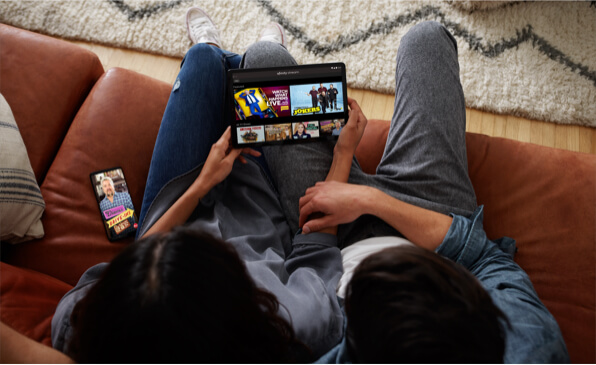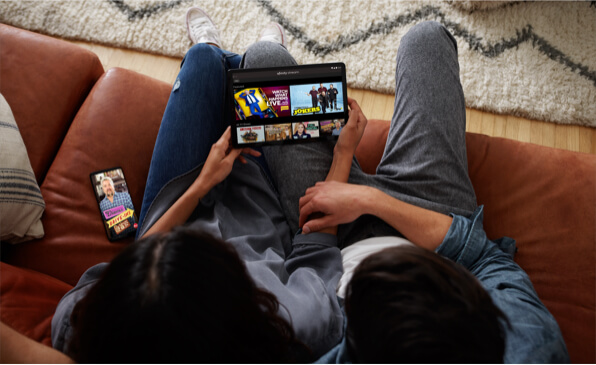 XFINITY VS. THE COMPETITION
See how Xfinity stacks up
Want to see how we compare with other service providers? We want you to see too. These at-a-glance comparison charts will show you how Xfinity beats our major competitors across Internet, TV, Voice, Customer Service and Home Security.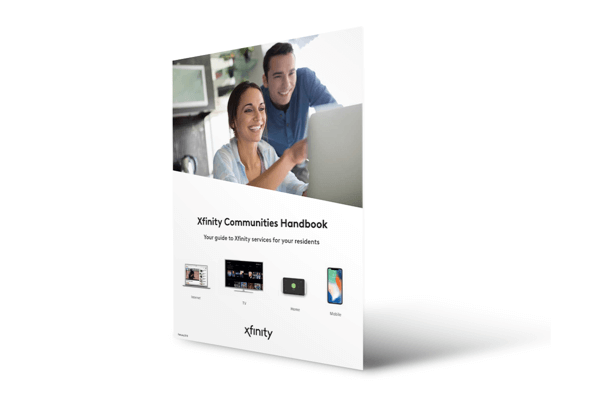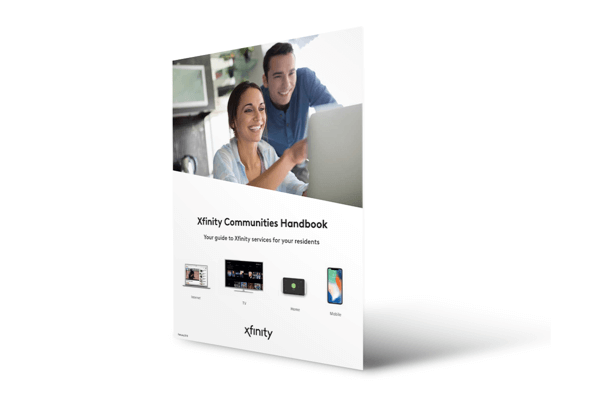 XFINITY COMMUNITIES HANDBOOK
Your all-in-one guide to smarter living
This simple guide shows you all the ways Xfinity can help transform your property into a smart, connected community. Learn about our services, get answers to your questions and find out how we give your residents a connected living experience like no other.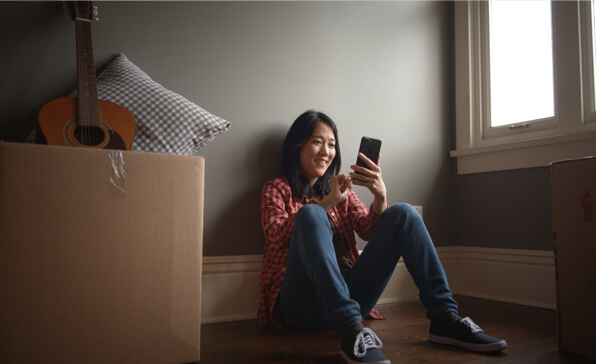 EASY TRANSFER
Help new residents transfer their Xfinity service
Moving is hard. Make it easier on your residents – and you – by helping them transfer Xfinity service to stay connected.
What customers are saying
New residents have a high level of expectation for technology service when they are selecting a retirement community, which is why we continually seek to improve the package we offer. Xfinity Communities allows us to provide advanced video services that include high-definition TV and a voice-activated remote control. Additionally, we can offer guests a public WiFi connection when they visit our property...
— Michael McCormick, Executive Director, Fox Run Retirement Community
This investment in network infrastructure at the Coda property is a notable differentiator for us in the Denver area. With Xfinity Communities enabling us to offer Gigabit speeds to residents as an additional amenity, we are providing the infrastructure needed to support smart home and environmental technology, which are two very important priorities in Colorado.
— Susan Maxwell, Principal and COO, Zocalo Community Development
People today choose apartments based on how well the technology services match their increasingly connected lifestyles, so being able to mirror the same services they would receive if they owned their own home is a critical competitive differentiator for us. Comcast is giving our residents cutting-edge TV, Internet, WiFi and phone services alongside unparalleled customer service…
— Dean Holmes, chief operating officer for Madison Apartment Group
Our residents expect fast speeds and the most entertainment options at their fingertips. Comcast has been a great provider to us and the suite of services they are providing through ACN will help our properties continue to be a great place to live for years to come.
— John Tarrant, Vice President, Procurement and Sustainability, WinnCompanies
It's all about the details because at the end of it, it's the details that do matter. They're all about technology. They're all about speed. And I think that defines Comcast. It's a very, very collaborative relationship. We have a representative that is actually dedicated to us. We are able to call our contacts at Comcast if there's ever any concerns. They get addressed immediately. They check in with us. It's just been a wonderful, wonderful partnership.
— Sarita, Property Manager
Restrictions apply. Not available in all areas. Services and features vary based upon service level. TV: Limited Basic service subscription required to receive other levels of service. Internet: Actual speeds vary and are not guaranteed. Xfinity xFi is available to Xfinity Internet customers with a compatible Xfinity Gateway. Home: Requires subscription to compatible high-speed Internet service. AL: 001484, 001504; AR: 12-030; AZ: ROC 280515, BTR 18287-0; CA: CSLB 974291, ACO 7118; CT: ELC 0189754-C5; DE: FAL-0299, FAC-0293, SSPS 11-123; FL: EF0000921, EF20001002, EF0001095; GA: LVU406303, LVU406264, LVU406190; LVU406354; IL: PACA 127-001503; LA: F1691; MA: SS-001968; MD: 107-1776; ME: LM50017039; MI: 3601206217; MN: TS674412; MS: 15018010; NC: 2335-CSA, 29443-SP-FA/LV; NJ: Burglar and Fire Alarm Business Lic. # 34BF00047700; NM: 373379; NY: licensed by the N.Y.S. Department of State 12000305421; OH: LIC# 53-89-1732; OR: CCB 192945; SC: BAC-13497, FAC-13440; TN: ACL 1597, ACL 1604; TX: ACR-1672104,-1818, B16922, B02571; UT: 8226921-6501; VA: 2705145289, DCJS 11-7361; VT: ES-02366; WA: COMCABS892DS; WASHINGTON, DC: ECS 902687, BBL 602512000005; WV: WV049211. Valid 1/1/19. See www.xfinity.com/homesecurity for current list.