Whether you're looking to plan a quick getaway or an overseas adventure, look no further than the posh, luxurious settings as seen on some of Bravo and Peacock's most aspirational shows. Season two of Peacock's Ultimate Girl's Trip takes place in the heart and soul of the Berkshires while Southern Charm (season 8 is airing now on Bravo) leaves you wanting more of Charleston, South Carolina's enchanting vibes. And season 7 of Below Deck Mediterranean sets sail into the previously unchartered waters of Malta, a most luxurious yet under the radar vacation spot. No matter which destination speaks to your wanderlust, here's a quick overview of where to eat, stay and play like a Bravolebrity at them all!
DESTINATION ONE: THE BERKSHIRES
As Seen On: Ultimate Girls Trip: Ex-Wives Club (Peacock)
Backstory: Dorinda Medley's infamous Blue Stone Manor in Great Barrington, MA (aka the Berkshires) is as iconic as the former housewife "making it nice," heckling "Jovani" or shouting "clip, clip, clip!" It's why the palatial, 18-acre, 11,000 square foot estate was clearly the only setting for season two of Peacock's Ultimate Girls Trip.
But not to worry if you don't have an invite to Blue Stone Manor—there's so much more to see and do in the Berkshires. This region of Western Massachusetts is the perfect destination for a girl's trip, family getaway or romantic weekend (summer and fall are amazing times to go) with quaint inns, world class arts and entertainment and no lack of dining and drinking options. Here's where to "whoop it up" on your visit.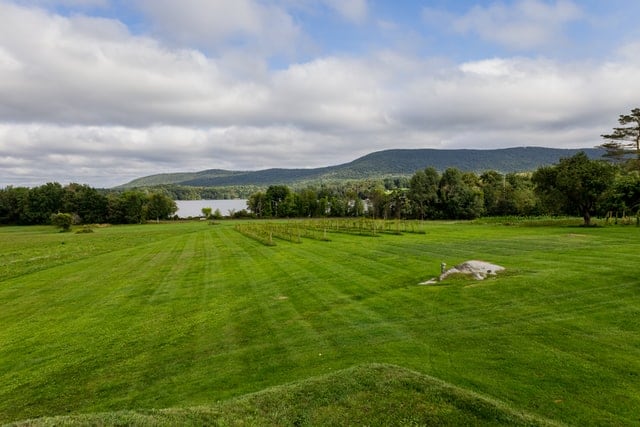 WHERE TO EAT AND DRINK
Location: 12 Eagle Street, North Adams MA
When it opened back in 1917, you could get a delish hotdog for a nickel! Today, the downtown North Adams spot is still serving burgers, hot dogs, and hand-cut fries in the tiny—but worth the wait—space. Hot dogs are no longer a nickel a piece but it's still the best deal in town with burger and dogs under $2!
Location: 8 Franklin Street in Lenox, MA
Whether you want a hearty brunch or a quick café style bite—the farm-fresh menu features sandwiches (croque monsieur for the win), savory delights (you won't stop thinking about their croissant French toast), salads, baked goods and an incredible selection of coffee and teas.
Location: 178 Main Street, Great Barrington, MA
You have your choice: grab a seat at the bar, cozy table, or communal bench. Whether you're indoors or outdoors at this special, dinner only spot—you're in for a treat at this restaurant that was once an antique store and bookshop. The farm to table menu is upped a level as many of the daily specials are created based on what's available from local farms. And, the drinks are a flowing with natural wines, custom cocktails and include a frequently rotating draft list!
WHERE TO STAY
Location: Stockbridge, MA
The Red Lion Inn is of the most popular and infamous places to stay in the Berkshires. You have your pick of farmhouse chic lodging options including the Maple Glen (a charming 17-room guesthouse)m the village houses or a turn-of-the-century Firehouse. Dine in the historic main dining room or enjoy an unforgettable night of live music and libations in the Lion's Den.
Location: Lenox, MA
It's not a girl's trip (or a "Real Housewives" level experience) without a spa day (or three). If you're looking to unwind and really soak in the peacefulness of the Berkshires, this your oasis. There's health-centric dining, an oversized pool to swim in (or lounge by), rescued horses for equine therapy—even an on-staff beekeeper. Oh, and about those spa treatments? The spa itself is 29,000 square feet, featuring everything from a "Deep Mountain" massage to Ayurvedic abhyanga oil therapy.
WHERE TO PLAY
Location: Lenox, MA
In the summer months, Tanglewood is home to the Boston Symphony Orchestra and features an outdoor music venue that welcomes more than 350,000 visitors during the season. Bring (or rent) a lawn chair and take in a performance in a backdrop unlike any other.
Location: Great Barrington, MA
Soaking in the great outdoors with a hike is one of the most magical things to do in the. Berkshires. And there's a trail for everyone, whether you're a novice or beginning hiker. One of the best places to start is the 2.8-mile Monument Mountain hike where there's views of Beartown State Forest to the east and the Taconic Range to the west.
WHERE TO WATCH: Streaming now on Peacock. New episodes every Thur.
DESTINATION TWO: CHARLESTON, SOUTH CAROLINA
As Seen On: Southern Charm (Bravo)
Backstory: There are two reasons to love Southern Charm. Number one, of course, is the drama and excitement of the gang's lives. That's what makes them must-see TV. But number two? Their hometown of Charleston, South Carolina! The quaint, charming, historic energy makes Charleston a must visit spot with food, art, entertainment, beautiful architecture, and hidden, historic treasures everywhere you look. And if you want to live like Craig, Shep, Austen, Leva and the gang, King Street is where it's at to throw back a Trop Hop, party all night long and buy the ultimate superfan souvenirs at Sewing Down South.
WHERE TO EAT AND DRINK
Location: 462 King Street, Charleston, SC
Republic has been the scene for much of Southern Charm's most memorable moments (and drama). In fact, it's where a young Kathryn Dennis first met a one Mr. Thomas Ravenel. Owned by Leva Bonaparte (her other restaurants include Mesu and Bourbon N' Bubbles), Republic serves up comfort food that you can enjoy in a street level garden for the ultimate al fresco fun. And if you're looking for something a little saucier, the indoor lounge has VIP tables, bottle service and live DJs every night—well into the night.
Location: 193 King Street
The best part of vacationing when you're near the East Coast waters? That easy access to incredible seafood. This tiny, New England style Oyster Bar features lobster rolls, Po' Boys and a raw bar (especially oysters, it's in the name after all) like no other.
Location: 480 King Street, Charleston, SC
Fans of Southern Charm know this rugged sports bar is a favorite spot for Austen, Shep, Craig and Whitney to hang and hold court when out on an infamous guy's nights. Beer lovers will have plenty of options with 48 beers on tap—and of course that includes Trop Hop.
WHERE TO STAY
Location: 19 Vendue Range, Charleston, SC
Known as Charleston's "art hotel"—the Vendue is a combination of 19 Vendue and 26 Vendue (located across the street from one another). Both buildings are made from historic warehouses (going back to the 1700s) and no two rooms are alike. Each building is decorated with different period reproduction furnishings or true antiques. But be sure to check out the rooftop bar—a perfect spot for afternoon lunch (as experienced by Cameran, Naomi and Dani in season 6) or happy hour.
Location: 75 Wentworth Street, Charleston, SC
This super cute boutique hotel features both a rooftop bar AND rooftop pool in addition to a coffee shop and heavenly spa. But sweetest of all is the library where after a day of exploring, you can relax with a cocktail and a curated collection of eclectic books, magazines, and art journals.
WHERE TO PLAY
FOLLY BEACH, SULLIVAN'S ISLAND, and ISLE OF PALMS
You've seen the Southern Charm gang play, fight and relax on the beach—and there's good reason. The pristine South Carolina coast is must-see and must experience. Most locals prefer Sullivan's Island for its easy access to restaurants and bars but the neighboring Isle of Palms is family-friendly. Then there's the popular Folly Beach—which gets crowded—but for good reason with the festivals, surfing, water sports and more it offers.
Location: 493 King St., Suite 101 Charleston, SC
If you're going to Charleston and you want the full "Southern Charm experience," a stop at Craig Conover's brick and mortar Sewing Down South store on King Street is non-negotiable. Opened in 2021, the store features all his signature pillows plus housewares, candles and tons of Sewing Down South branded apparel. Plus, Craig is often there to flash his irresistible smile and take a selfie!
WHERE TO WATCH: New eps every Thur night at 9pm ET on Bravo. Streaming the next day on Peacock
Destination Three: MALTA
As Seen On: Below Deck Mediterranean (Bravo)
Backstory: Below Deck Mediterranean is all about escaping reality and trading your everyday life for a luxurious fantasy aboard a mega yacht. With a staff of stewardesses catering to your every whim, deckhands setting up water toys (and slides!) for a day at sea plus a chef to prepare every single meal on your preference sheet—Captain Sandy could steer the yacht aimlessly and no one would complain. But the beautiful destinations in seasons past have been breathtaking, bucket list places to go (we're talking Greece, Croatia, Italy, the South of France, and Mallorca). For season 7 of Below Deck Mediterranean, Captain Sandy is taking her charter guests to Malta, an island country consisting of an archipelago in the Mediterranean Sea. Here's how to explore the beauty and history of Malta—even if you don't have access to a yacht—in style!
WHERE TO EAT AND AND DRINK
Location: 1, Triq il-Kavalier Ta' San Gwann, Valletta, Malta
Enjoy a luxe dining experience with different spaces to choose from. The main dining hall is housed in an ancient tunnel, the wine bar is an exhibition space where you can learn about Malta's history, and the terrace features spectacular views of Valletta. As for the food? You'll enjoy modern Mediterranean cuisine with rabbit—a local specialty—on the menu.
Location: Paola, PLA 2143, Malta
Owned by the Delicata family, this is one of the finest, must visit wineries in the entire Mediterranean. The Delicata wine tasting vaults date back to the 1700s, and it's wise to time your trip to Delicata's not to be missed annual wine festival.
WHERE TO STAY
PALAZZO JEAN PARISOT BOUTIQUE SUITES
Location: 76, St.Paul's Street, Valletta
This luxury hotel is inspired by the life of Jean Parisot de Valette, the man who built Valletta and oversaw the laying of its foundations in 1566 (after the final battle of the Great Siege of Malta was won). It features elegant suites, breathtaking views (including a rooftop terrace and an outdoor tub) as well as easy access to all of Malta's must-see cultural spots.
Location: De Paule Avenue, San Anton BZN9023, Malta
Located in the heart of Attard, this luxury hotel was once a private 19th-century villa. Near San Anton Gardens, there's much sightseeing to enjoy nearby but the hotel itself is its own luxurious escape with a garden, multilevel swimming pool and of course, spa!
WHERE TO PLAY
Swim spots are one of the most unique and delightful ways to soak in Malta. Golden Bay features unmatched red sands, insanely clear water, and breathtaking views— and it's surrounded by amazing golden dunes. Make it a day of relaxing (sunbeds are available) or one of adventure by going snorkeling. No matter what, it makes for the perfect seaside day.
The Blue Lagoon is Malta's bucket list gem, known for crystal clear turquoise blue waters and jagged cliffs. You can swim or hike—or both. Be sure to bring a camera as the scenery and views are meant to be remembered forever.
WHERE TO WATCH: New episodes every Monday night (starting July 11th) at 8pm ET on Bravo. Streaming a week in advance on Peacock.