Enjoy more for the holidays
Standard Double Play: Get faster 150 Mbps Internet, 125+ TV channels, and HD included on our easy-to-use entertainment experience, Xfinity X1
69.99 for 12 months with 2 year agreement
99 /mo for 12 months with 2 year agreement
Watch these holiday favorites and more on the Xfinity Stream app. © 2018 Paramount Pictures.
Equipment taxes and other charges extra, and subj. to change. See Pricing & Other Info.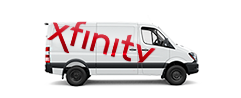 Limited Time | 50% Off Pro Installation
Save on holiday entertainment for everyone. Add any TV offer to cart to see if you qualify.
View All Offers