It's Pride all year,
with Xfinity X1 and Flex
With Xfinity X1 and Flex, enjoy the largest collection of LGBTQ
content at home and on-the-go.
Xfinity LGBTQ Film & TV celebrates Pride
Just say, "Pride," into your Xfinity Voice Remote to view hit TV shows, blockbuster movies, and much more. When it comes to LGBTQ entertainment,
Xfinity is a way better way to watch.
LGBTQ Experience
Get better streaming included with Internet
"Show Me
LGBTQ Film & TV"
Xfinity On Demand gives you everything you're looking for all in one place. Watch your favorite movies and TV shows at home or on your mobile devices with the Xfinity Stream app. X1 allows you to access the entertainment you love, plus with smart recommendations, discover new and exciting content with the click of a button.
View X1 Deals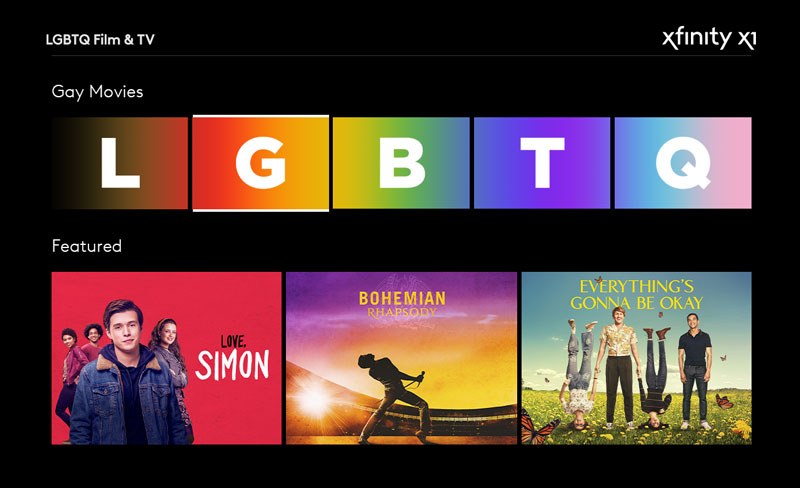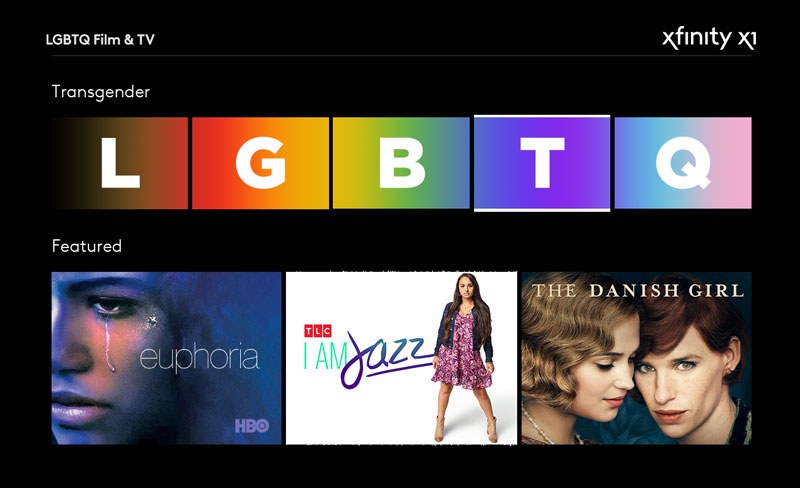 Get better streaming included with Internet
That's Xfinity Flex, our 4K streaming box, included with our reliably fast Internet. Watch curated movies and TV shows with LGBTQ Experience on Xfinity. And enjoy all your favorite streaming apps. Plus get Peacock Premium, the new streaming service from NBCUniversal, on us.
*Separate subscriptions required for certain streaming services.
Kids & Family in the LGBTQ Film & TV Collection
A home for LGBTQ-inclusive youth and family entertainment celebrating diversity and highlighting the community in positive and relatable ways.
Video Content Your Way
Get what you need for how you watch
Peacock Premium at no extra cost, no strings attached
10,000+ free shows, movies and rentals
Integrated streaming apps
(Peacock, Netflix, Hulu, Dekkoo, Revry, Here TV & more)
Add premium channels like HBO & more
Xfinity Voice Remote
Live broadcast & cable networks
Xfinity Cloud DVR & OnDemand
Sports Zone app with live stats and scores
Get X1
Get Flex
Restrictions apply. Not available in all areas or to current Xfinity Video customers. Requires post-paid subscription to Xfinity Internet, excluding Internet Essentials. Pricing subject to change. Taxes, fees and other applicable charges extra, and subject to change. Limited to up to 3 devices. 1 device included, addl. devices $5/mo. per device. All devices must be returned when service ends. Separate charges apply to On Demand and certain streaming services. Viewing will count against any Comcast data plan. Subscriptions required to access Peacock, Netflix, Hulu, Prime Video, SHOWTIME®, and HBO®. The High Note © 2021 Universal Studios. All Rights Reserved. Get On Up © 2021 Universal Studios. All Rights Reserved. © 2021 Comcast. All Rights Reserved. Individual programs and marks are property of their respective owners.