Streaming your favorite clips, listening to tunes, or even checking emails for work can all use up your cellular data. That's why Xfinity Mobile offers data options designed to serve everyone's specific needs. Regardless of whether you're an Xfinity Mobile customer or not, these tips can still help you track your usage and get the most from your mobile data plan.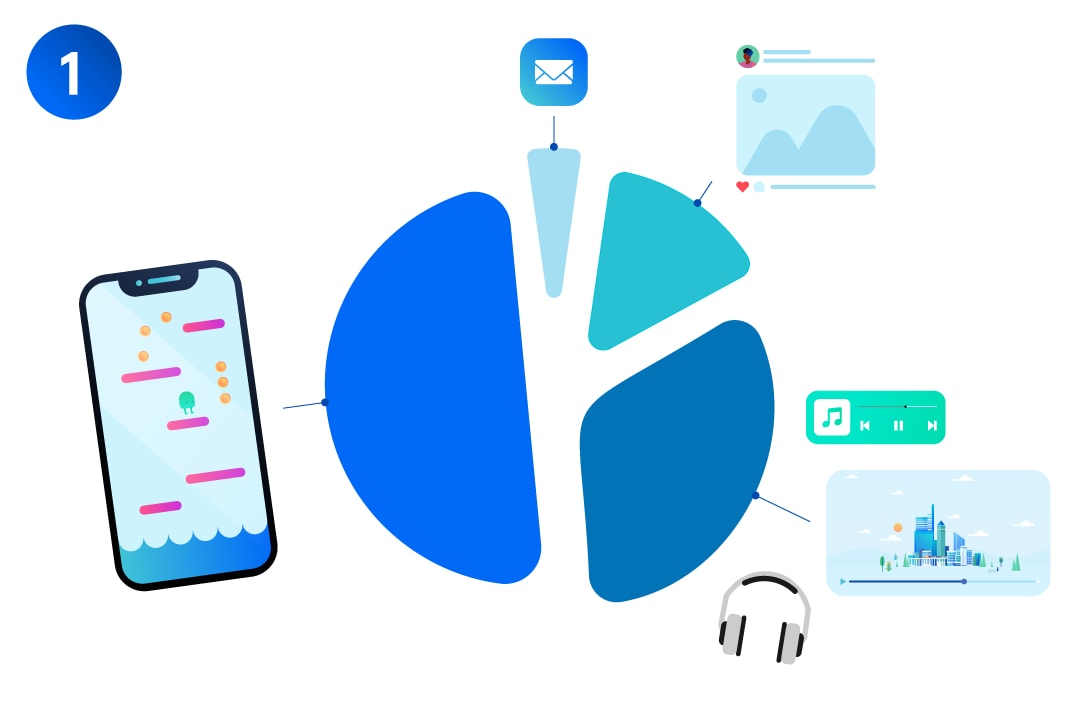 1. Learn the basics
(or "What is this 'data' you speak of?")
First, a crash course on which phone activities are using up your mobile data.
Writing an email uses a small amount of data.
Cruising through social media uses a bit more, depending on how many pictures or soundbites you're downloading.
Streaming music and videos use a pretty hefty amount. And the higher the quality of sound or video, the more data used.
Gaming, however, is still the reigning champ of data usage.
2. WiFi whenever you can
(or "How do I not use my cellular data?")
When it comes to living your best mobile device life, WiFi is always the best way to stream, download files, listen to music, scroll through social feeds and more, all without consuming your monthly allotted mobile data. Whenever you're home, connect to your home network. And whenever you're out-and-about, see if you can connect to one of the millions of Xfinity WiFi Hotspots nationwide.
3. Track your data
(or "How much data am I using?")
Keeping tabs on your data usage is always a smart move. Log into your Xfinity Mobile account to view your monthly data usage in the My Data section of the Activity page. You can do this online or on the Xfinity app. This will give you a better overall picture of your data that month and if you might need to rein in some of your usage.
4. Find your data guzzlers
(or "Which apps on my phone use the most data?")
Now that you know how much overall data you're using, learn which apps are the biggest culprits for your usage.
For iPhone users:
Open the "Settings" app.
Head to the "Cellular" section.
Scrolling down to the list of apps under the "Cellular Data" heading will list each app and the amount of data it has consumed in the current period.
If you scroll all the way to the bottom and tap "Reset Statics," you can start a new period and track what's using the most data after a day or so. You can easily toggle between using cellular data or WiFi only for any app. If you
turn off an app's ability to use cellular data, it will only connect with WiFi. You can toggle between these options whenever you like.
For Android users: (Note: Though the interface may vary depending on your phone's manufacturer, model, and OS version, these steps are similar enough to still help you locate your data usage.)
Go to "Settings" > "Wireless & Networks" > "Data Usage."
For Samsung devices, go to "Settings" > "Connections" > "Data Usage" > "Mobile Data Usage."
This will show a chart of your data usage over the last month and the apps using the most data. In order to get the most accurate look at your usage, you may need to specify your billing cycle. If it looks like you're flirting with an overage charge, you can use the "Data Saver" feature now available on most Android devices. Simply go to "Settings" > "Wireless & Networks" > "Data Usage" and then toggle on the "Data Saver" option to change which of your apps have unrestricted access to background data.
Shop Samsung
5. Set those settings
(or "How can I stop apps from using too much data?")
Now that you know which of your apps are using up more than their fair share of data, you can toggle their settings so they can only work on WiFi, won't autoplay to the next data-consuming video, or won't stream at the highest possible video quality. A simple step, a ton of saved data in the long run.
Already an Xfinity Mobile subscriber and think a new phone could help you get the most from your data plan? Visit the Xfinity Mobile Shop today and find the perfect match. Whatever your data usage looks like, Xfinity Mobile has a plan for you. Visit Xfinity.com/mobile/learn/plan to shop, compare, and build the mobile plan that fits your needs.