Easily keep an eye on your front door from anywhere with the Video Doorbell and the Xfinity app.
To add a Video Doorbell, you'll need to choose a new plan that includes both Xfinity Internet and Xfinity Home Self Protection.
SPECS
Color: Black with white trim plate
Size: 4.6 x 1.6 x 1.3 in (H x W x D)
Field of View: 155° (Diagonal), 132° (Horizontal), 98° (Vertical)
Night Vision Range: ~16 Feet (5 Meters)
*Taxes and fees extra. Pricing subject to change.
Choose the payment option
that works best
Interest-free financing
Pay only $5/month for 24 months.
One-time payment
Pay a single payment of $120.
Never miss a delivery
The Xfinity Video Doorbell has quality video and two-way audio to see and speak with delivery people, even when you're not at home.

Front door notifications for peace of mind
You'll be notified about front door activity through the Xfinity app, or on your TV with X1 or Flex.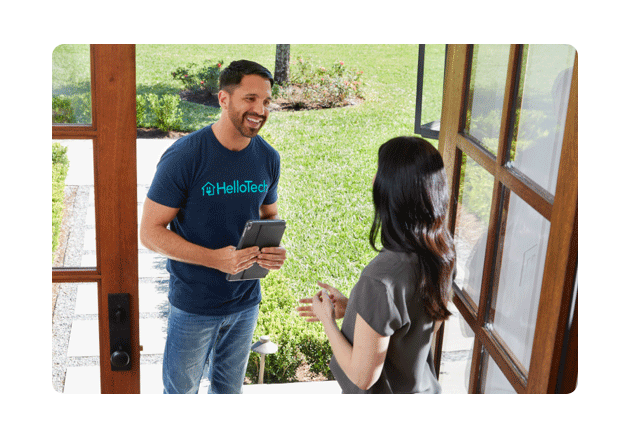 HELP FROM HELLOTECH
Install it yourself, or get some assistance
Follow our easy-to-use self-installation instructions, or reach out to HelloTech if you need some extra help.
Choose a new plan
Select a plan that includes both Xfinity Internet and a Self Protection plan.
Rent an xFi Gateway
The xFi Gateway is a modem and a WiFi router in one, which is needed to use a Self Protection plan.
Pick your devices
Add up to 6 Xfinity Cameras and Video Doorbells to connect with the Xfinity app.