Free with Xfinity Internet.
Not buying TV service? Try Flex. With our 4K streaming TV box, your entertainment starts at free. Just pick your Internet speed, then add Flex at checkout.
4K Streaming TV box
Enjoy thousands of awesome shows, movies, and more.
Your favorite apps
Find all your streaming apps, all in one place.
Our Voice Remote
Easily search across apps to find what you love.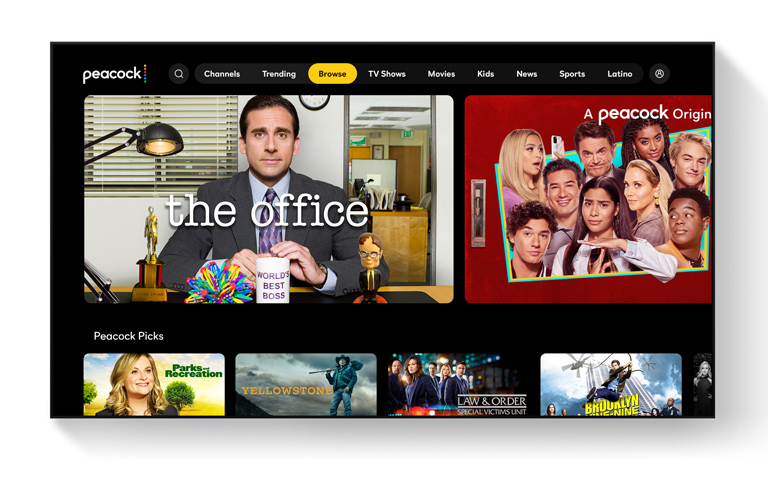 Get Peacock Premium at no extra cost
Get live sports, movies, and unlimited access to your favorite NBC shows with Peacock on Flex. Plus check out more free TV shows and movies with great apps like Tubi, Xumo, and Pluto TV.
Just say it and see it
Easily find your favorite movies, shows, podcasts, and more. Use our award-winning Voice Remote to control your entertainment and search across all your apps at once.
Easy install. Zero commitment.
Plug Flex into any TV to get started. Then connect to the Internet and sign in to the apps you want to watch. You'll also get 24/7 support just in case you need it.
Enjoy your favorite apps.
STARZ and related channels and service marks are the property of STARZ Entertainment, LLC. Visit starz.com for airdates/times.
Not available to current Xfinity TV customers. Requires post-paid subscription to Xfinity Internet, excluding Internet Essentials. Pricing subject to change. Taxes, fees and other applicable charges extra, and subject to change. Limited to 3 devices. 1 device included, additional devices $5/mo. per device. All devices must be returned when service ends. Separate charges apply to On Demand and certain streaming services. Viewing will count against any Comcast data plan.
Subscriptions required to access Peacock, Netflix, Prime Video, Hulu, Spotify, STARZ®, SHOWTIME®, and HBO Max™, and Disney+. Peacock Premium has a $4.99/month value. Access to Disney+, Netflix, Prime Video, Hulu and YouTube on Xfinity requires an eligible set-top box with Internet service. Disney+, Netflix streaming, Amazon Prime Video and Hulu membership required. Netflix, Prime Video, Hulu, YouTube, and all other streaming services use your Internet service and will count against any Xfinity data plan. Programming subject to change. Streaming content limited to the U.S.
Restrictions apply. Not available in all areas. © 2022 Comcast. All rights reserved. Individual programs and marks are the property of their respective owners. (All Disney+ content © 2022 Disney and its related entities). © 2022 & TM Lucasfilm. Ltd
Standard data charges apply to app download and usage. © 2022 Comcast. All rights reserved. All other copyrights and trademarks are the properties of their respective owners.