While there's no shortage of blockbuster movies to choose from with Xfinity X1, some titles warrant the full movie theater experience. It's hard to replicate the crystal-clear imagery flashing its way from the projector to the screen and back to your eyes. Reproducing thunderous sound effects rumbling from the enormous speakers is a challenging task, and at the theater, you have the added benefit of enjoying live reactions from fellow viewers. And there's really good popcorn, too.
A prime example is Jurassic World: Fallen Kingdom, in theaters on June 22, 2018. This action-packed film stars actors Chris Pratt and Bryce Dallas Howard, who attempt to save dinosaurs from a volcano on the verge of eruption. Everything about this flick screams, "Experience me in theaters!"

How to buy movie tickets without leaving the couch:
Turn on your TV. Say "Fallen Kingdom" into your X1 Voice Remote. This will get the Jurassic World: Fallen Kingdom trailer to play on your screen. Enjoy the sneak peek!


While the trailer plays, say "Get tickets" to view showtimes at local theaters in your area.


Select the Send to Mobile option, enter your mobile phone number, and select Send Text to continue. Next, you'll receive a text message with a link to finalize your ticket purchase.*
Oh, and one more thing. Don't forget to check out Xfinity On Demand for exciting movie extras, music, and so much more from Jurassic World: Fallen Kingdom.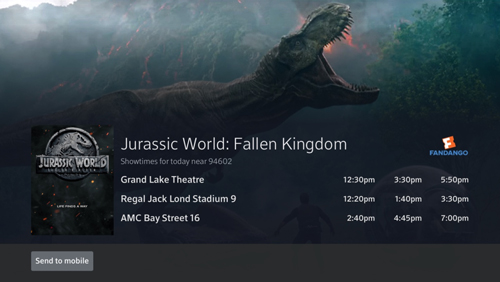 Five frightfully fun film facts about Fallen Kingdom:
Fallen Kingdom

is the sequel to Jurassic World, which is one of the highest grossing films ever. In the history of Hollywood!


As we mentioned, the movie will be in theaters June 22, 2018—available to enjoy in RealD 3D, Dolby Cinema, and IMAX.



Jurassic World: Fallen Kingdom

uses more advanced animatronics and realistic special effects than any of the previous films in the series. We're excited to see all those dinosaurs come to life!



Steven Spielberg

, director of award-winning films such as Schindler's List, Saving Private Ryan, and the original Jurassic Park, is one of Fallen Kingdom's executive producers.


The movie's director, J. A. Bayona, also helped write and produce the film.
Bonus fact: Jeff Goldblum makes a quick cameo in Fallen Kingdom, playing Dr. Ian Malcolm, who was a character in the original Jurassic Park movie from 1993.
It's easier than ever to use your X1 TV entertainment experience to reserve seats at your local theater. Don't be the last of your friends to see the latest, greatest blockbuster films. Can't wait until you're home in front of the TV? Buy tickets right now on the Fandango website! No matter the movie you choose, we hope you have a larger-than-life theater experience filled with "oohs," "ahhs," and "mmm!" (A large soda goes well with that popcorn.)


*Messaging and data rates may apply.