Enjoy TV shows and movies from around the world?
Xfinity has you covered in more ways than ever, with the Sling International TV app now available on our best TV experience, X1. Go global from the comfort of your home with the ultimate international programming app, easily accessible right from your TV screen.
What is the Sling International app and how do I access it?
Sling International is a multi-language TV app that delivers global entertainment from 200+ channels in 20+ languages. Don't subscribe to Sling International yet? Just say "Sling International" into your X1 Voice Remote to sign up today.
Access your favorite shows and movies in Arabic, Mandarin, Cantonese, Urdu, Polish, Punjabi, Taiwanese, Tamil, Telugu, Malayalam, Kannada, Bengla, Bengali, Marathi, and more.
Enjoy it all on any device, with your Slinger International subscription and Xfinity X1.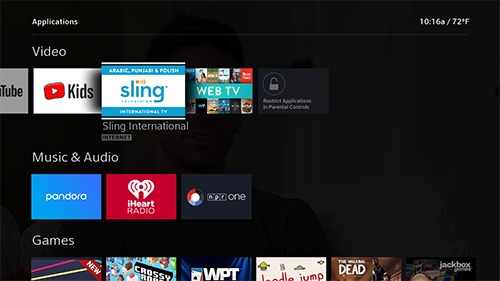 Want to learn more about how Sling International works with X1? Check out our Sling International FAQs.
How do I get started?
Sign up or access the Sling International app right from the comfort of your home, with Xfinity X1. With your X1 Voice Remote, just say or type "Sling International." Or visit the X1 Apps menu to find the Sling International icon.

To sign up, select your language of choice in the top right corner. Then choose your package and any extra services. You will then be asked to create a login and enter your credit card information for billing. Please expect to autopay your bill with the credit card on file from Sling. And that's it!

The Sling International app is accessible on Xfinity X1 along with all your favorite On Demand programming, top series and movies on Netflix, new music on Pandora, trending videos on YouTube, and of course — live TV. It's more than just TV, it's X1.