The event the world has been waiting for is almost here— the Olympic Games Tokyo 2020 are just around the corner, and you don't have to miss a minute of the action with Xfinity X1.
Olympic Games on Xfinity: Your personalized viewing experience on X1
The Olympics kicks off Friday, July 23, with Team USA at the Opening Ceremony and you don't have to miss a moment with X1. Watch Team USA represent the Nation in the Opening Ceremony live on NBC Friday, July 23 at 6:55 AM ET, or stream the replay on demand with Peacock on July 24.
The Olympics Hub on Xfinity *X1 will house 7K hours of live Olympics and Team USA coverage, replays, highlights, and much more, including:
Every minute of every live event
200+ hours of live 4K coverage, including the Opening and Closing Ceremonies, the nightly Primetime Show, men's and women's golf, tennis, wrestling, and more.
The ability to favorite sports and editorial categories for a personalized browse experience as well as an opt-in flow to receive X1, SMS and Stream app notifications for selected sports and categories.
Video playlists featuring trending highlights and all the amazing moments that make The Games so special, including a personalized playlist for you based on your favorite Olympic sports
All the very best highlights and full-event replays, plus interviews and cultural clips from the TODAY Show cast
300+ hours of Spanish-language coverage
200+ hours of live and on-demand coverage of the Paralympic Games Tokyo 2020
Special access to Olympic Channel and Universo for all video customers during the Games
… and much, much more!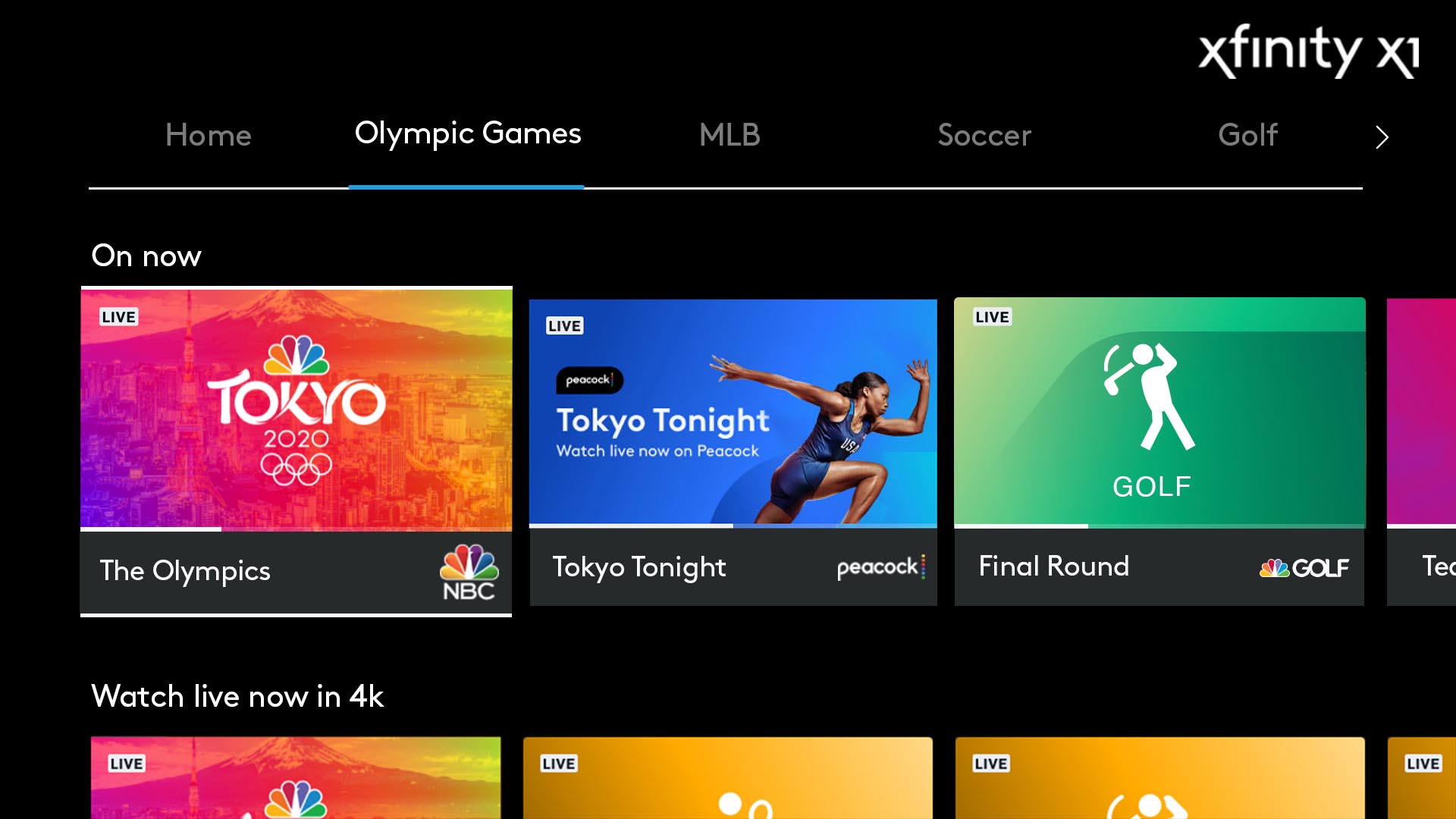 Just say "Olympics" into your Xfinity Voice Remote to start exploring the X1 Olympics Hub. Looking for even more? Try these voice commands for a more immersive Olympics and Team USA experience:
"Team USA"
"Olympics in 4K"
"Simone Manuel"
"Tokyo 2021"
"Show me the medal count"
"Athletes: Tokyo Olympics"
All things The Olympics on Peacock, including:
Six channels dedicated to all things Team USA and The Olympics, including "Tokyo NOW," which will offer four original shows each day:

Tokyo LIVE
Tokyo Gold
On Her Turf at the Olympics
Tokyo Tonight

Hundreds of highlights available to watch any time
Video collections featuring moments you don't want to miss
Select full-event replays, including the Opening and Closing Ceremonies
Documentaries and docuseries focused on the stories of the U.S. athletes and the Olympics. Check out titles like:

Michael Phelps: Medals, Memories & More
My Pursuit: Life, Legacy & Jordan Burroughs
The Greatest Race

… and much more, all on Peacock, included with your Xfinity Internet at no additional cost.
Want to watch across devices? Xfinity TV customers can also enjoy Team USA and Olympics content on the Xfinity Stream app and web portal, featuring more "For You" Team USA and Olympics content, highlights, and those latest results. Update to the latest version of the Xfinity Stream app or download it today to enjoy the Olympics in and out of the home.
Go for the gold this summer— catch Team USA in the Olympic Games on X1 and never miss a moment of the action.
* Must have USA Network in your video package to access all 7K hours on X1 and Stream.