Some of you might have a need-to-stream, yet find yourself wondering, "what are the best movies and TV shows on Netflix?" You might also ask, "how can I stream them on my TV?" Netflix has a wide range of TV shows and movies available on their platform for members with a monthly subscription, which you can easily access using Xfinity X1. Simply say "Netflix" (or the title of a particular series) into your X1 Voice Remote, or browse your X1 Apps in the Main Menu and find Netflix there. Once you're signed in and ready to go, only one question remains: what should you watch first?
We've broken down the best movies and TV shows on Netflix, including some great Netflix original series, that you can stream today using Xfinity X1, or by simply speaking into your Voice Remote. Read on, then get ready to watch these binge-worthy fan favorites.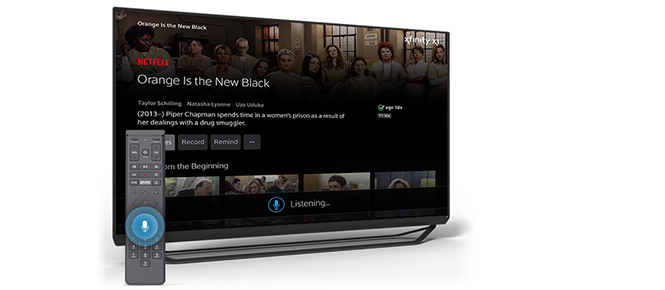 The best Netflix Originals to start streaming now
The Haunting of Hill House
The Haunting of Hill House is a brand-new Netflix original series based on the 1959 Shirley Jackson novel of the same name. Although director Mike Flanagan admittedly takes some artistic liberties on this horrifying classic, this ten-part series is not to be missed. With hidden ghosts and ghouls in each episode, and a roller-coaster ride of family drama, Hill House will have your hair standing up straight in seconds. After all, some have described the series as "a spooky This is Us", and who could resist that? To start streaming right now, simply say "Haunting of Hill House" into your X1 Voice Remote, and your wish is X1's command.
Lost in Space
If you're into classic, deep-space thrillers like Alien, or 2001: A Space Odyssey, this title is definitely for you. Lost in Space follows the plight of the Robinson family, who face disaster after being stranded on a far-away space colony. Seeking to escape the colony, the Robinson family must band together to find a solution: before it's too late. Although each episode will make your palms sweat, this series is worth catching up on before season two premieres sometime in 2019. Stream it on Netflix using Xfinity X1 today.
Bright
Considered one of the best movies on Netflix, this thought-provoking film starring Will Smith opens its audiences' eyes up to a world of tension between coexisting species in the heart of L.A. As a human cop and his "orc" partner take on crime in the city, interspecies issues are explored and viewers are challenged to confront their own ideas about just how different we all aren't, after all.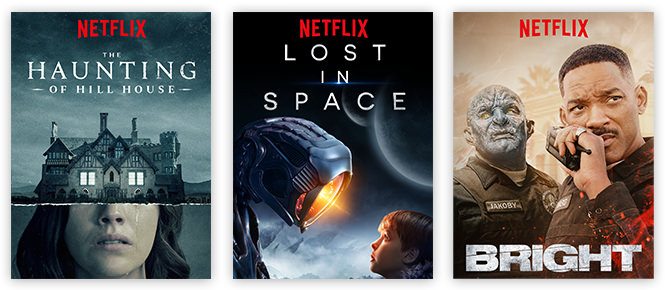 Other titles you can stream on Netflix
American Horror Story
If you've watched The Haunting of Hill House yet find yourself searching for even more horror (and gore-galore), then FX's mega-hit American Horror Story is your best bet. Coming from the minds of TV legends Ryan Murphy and Brad Falchuk, this anthology series will leave you haunted for days. Take a trip through a murderous mansion in L.A., an evil asylum, a witch's coven, a hellish freakshow, a haunted hotel, and more in this mind-bending series. Although each season offers a different, anthology-style approach, little "Easter eggs" in each season recall seasons past, giving you a great reason to get caught up on AHS with Netflix today.
The Office (U.S.)
When NBC decided to launch an American adaptation of the BBC "mockumentary" The Office in 2005, no one could've predicted just how successful the show would become. A standout comedy that definitely ranks as one of the best shows on Netflix, The Office follows the daily goings-ons of boss Michael Scott (Steve Carrell) and his band of misfit employees, including a stern beet farmer named Dwight (Rainn Wilson), a prankster named Jim (John Krasinski), and a more-than-meets-the-eye receptionist named Pam (Jenna Fischer). As heart-warming as it is hilarious, this series can be viewed in its entirety on Netflix.
Shameless (U.S.)
Another American adaptation of a British fan-favorite, this series follows the hapless and disastrous Gallagher family as they fight their way through life in inner-city Chicago. Featuring an alcoholic father (William H. Macy), and barely-getting-by sister and matriarch (Emmy Rossum), this SHOWTIME® original will hook you in seconds. With situations ranging from sad to laughable, this drama-comedy explores a wide range of emotion and family relationships, resulting in one of the best shows to binge-watch in years.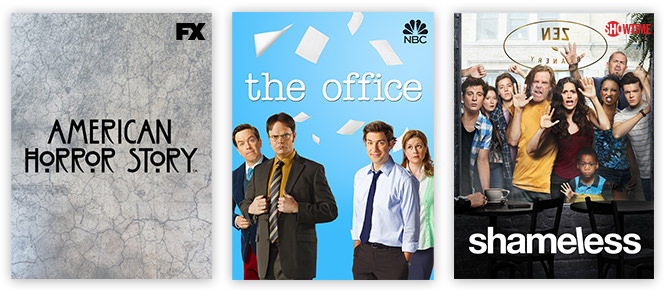 Get caught up on your favorite shows today using X1
So, are you ready to get caught up on some of the best Netflix movies and TV shows? Find Netflix in the same place you find all your entertainment with Xfinity X1. From giving great Netflix recommendations to instantly streaming content at the sound of your voice, X1 has you covered.
Use Xfinity X1 to start streaming movies, TV shows, and more through your favorite apps today. If you have any questions about X1, you can learn more today, or visit our Netflix help and support page.