In 1928, the first television sold for $75. A lot more than just prices have changed over the last century. The "tube" has transformed into a total entertainment experience: interactive, dynamic, Internet-equipped, and sometimes even smart — so Comcast does TV even smarter.
Xfinity changes the way you watch TV. Our X1 TV Box delivers live broadcasts, your DVR library, On Demand programming, and all the apps you love to use on your cell phone and tablet—available directly on your TV. So, what's app-ening with X1? Quite a lot these days...
How to access the Apps menu on your X1 TV:
Open the Main Menu with your remote by pressing the Xfinity button.
Navigate to the right, and select Apps.
Highlight your app of choice, and press the OK button.
Shortcut: If you have an X1 Voice Remote, press the Microphone button and say "Apps" to be taken to the Apps menu.
Some apps are not supported on the RNG150 TV Boxes (non-DVR; Pace and Samsung models.)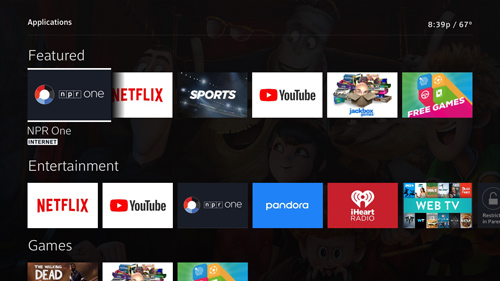 Your Complete X1 TV App Guide
Netflix:

From original movies and series to classics and new releases, there's always something to watch. With over 50 million paid subscribers, Netflix is the nation's largest streaming service. After

opening the Netflix app on X1

, you can create a new account or sign in using your existing Netflix email and password.



Photos (Facebook, Instagram, and Flickr):

Share your social media photos on your TV screen by signing in to the

Xfinity TV App Profile

page and connecting Facebook, Instagram, and Flickr to your account.



Pandora:

Listen to music, create playlists, and be the life of the party with Pandora on X1.


Weather: Stay in the know about sunshine and snow from the comfort of home. The X1 Weather app includes extended forecasts and allows multiple locations so you can check conditions for your family and friends across the country.



To add a location to the X1 Weather app:



Open the Weather app by selecting the Weather tile from the App menu. Press OK.
Use the down arrow button to highlight Add Location. Press OK.
Enter your five-digit ZIP Code by using the number buttons on your remote control and press OK. If you don't know the ZIP, press the down arrow button, highlight Enter City Name, and press OK. Next, enter the city name and, highlight Confirm, and press OK.



Sports: Xfinity's X1 Sports app makes it easier than ever to stay updated on all of your favorite players and teams; from the NFL and NBA to MLB, NHL, and international soccer. This split screen app allows you to browse stats, results, schedules, and highlights while keeping your current show or movie on screen.



Do the Philadelphia Eagles have what it takes to become repeat champions? Will the superstar-filled Yankees snag their 28th World Series victory? Will you use the X1 Sports app to ensure you never miss a key moment? We hope so.

Pro Tips:

Press the C button on your remote control to launch the Sports app.
Press the Microphone button on a Voice Remote and say "Sports" to open the Sports app.
Bookmark your favorite teams to stay ahead of the game (literally!)



Traffic: Before you begin your daily commute, check potential routes for traffic jams and construction zones. This app will be crucial to help you avoid hassles and headaches on the road.


Games: Whether you are playing solo or with friends and family, X1 Games has something for everyone! You can play the day away with our selection of over a dozen Free Games on X1, or dive into Jackbox Games for all of your multi-player gaming needs.




Horoscopes: Forecast your future right from the comfort of your furniture. The X1 Horoscopes app provides daily horoscope readings based on your zodiac sign.


iHeartRadio: iHeartRadio members can listen to over 800 live radio stations right from your TV. Just say "iHeartRadio" to your Voice Remote and start your party off right!


Stocks: Track your bookmarked stocks and monitor the most popular exchanges to stay updated on your investments.


Xfinity apps: There are numerous customer-centric apps built into the X1 App screen that allow you to manage your account preferences from your TV.



My Account: View your account details, manage appointments, and pay bills.
Web TV (Watchable): Short, entertaining viral videos ranging from life hacks and epic fails to highlights of your favorite NBC shows.
X1 Tips & Tricks: This app has plenty of helpful shortcuts that will enhance your TV viewing experience with X1.
Xfinity xFi: Browse and edit users and devices connected to your WiFi network, and set parental controls and bedtimes right from your TV.
Voicemail: Check your home phone's voicemail.
Home: If you're an Xfinity Home customer, you can arm/disarm your system, view saved videos and images, and view event history from your television. And if you have the required additional equipment, you'll also be able to adjust your thermostat, change lighting, and lock/unlock doors.
Ready to explore the potential of apps?
Get the most out of your TV experience with X1 TV apps. Optimize your interactive TV experience on your own terms, anytime you want. So, what are you waiting for? Get comfortable on your favorite recliner and enjoy the journey.